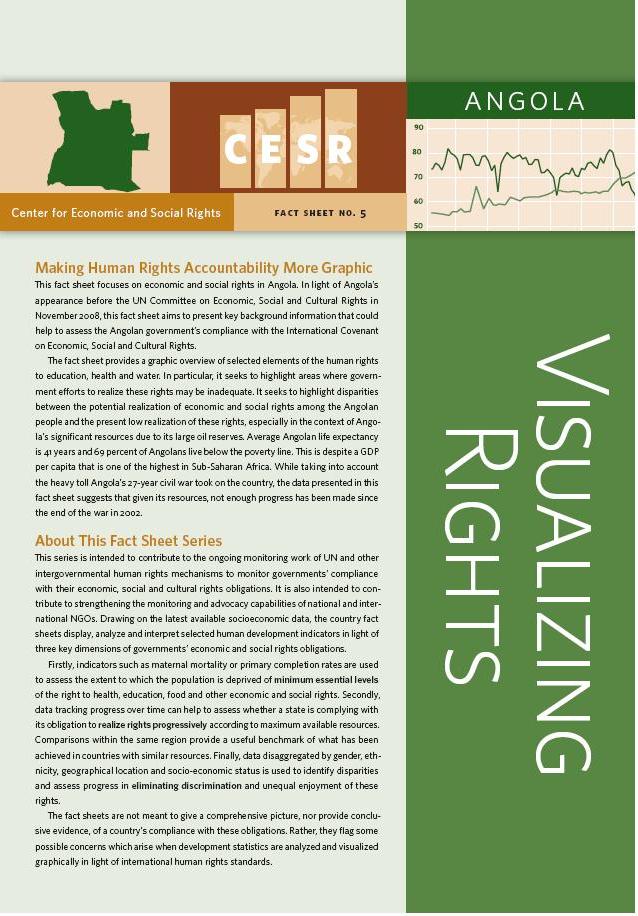 Although Angola has one of the highest levels of GDP per capita in Sub-Saharan Africa, average life expectancy is 41 years and 69 percent of Angolans live below the poverty line. And despite the fact its 27-year civil war took a heavy toll on the country, data suggests that given its resources, not enough progress in realizing economic and social rights has been made since the end of the conflict in 2002.

CESR's factsheet (aqui em portugués) on Angola provides a graphic overview of selected elements of the human rights to education, health and water, seeking to highlight areas where government efforts to realize these rights may be inadequate. It was prepared in light of Angola's appearance before the UN Committee on Economic, Social and Cultural Rights (CESCR) in November 2008.

The factsheet is part of CESR's Visualizing Rights series. Each factsheet focuses on a country and its economic, social and cultural rights obligations. This focus helps enable intergovernmental human rights mechanisms, such as the UN, and national and international NGOs, monitor governments' compliance with their economic, social and cultural rights obligations.
The latest available socioeconomic data is used, taken either from international sources such as the World Bank or the UNDP, or national sources, such as national statistics bureaus. This data is displayed using graphs and charts, and then analyzed and interpreted. This is meant to shed light on the condition of governments' economic and social rights obligations.