The process to draft a new Constitution in the Latin American country is showing how a fruitful public debate around the economy and human rights can happen. Here, our program officer María Emilia Mamberti tell us about her experience at Reimagina LA, an event aimed at inspiring change in the region organized by, Fundación Avina, the Global Initiative for Economic, Social and Cultural Rights and Ciudadanía Inteligente.
By: María Emilia Mamberti, Program Officer at CESR.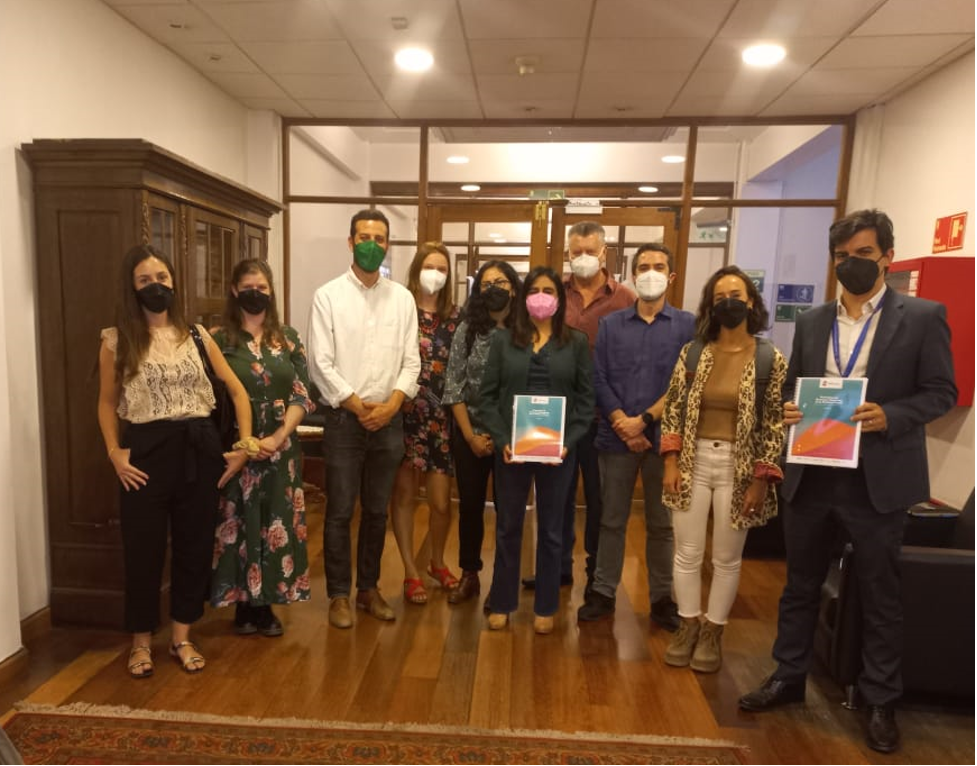 Reimagina LA participants meeting with Chile's Undersecretary of Finance, Claudia Sanhueza, and her team.
The transformational processes that Chile has been undergoing in the last years has received significant attention from the media, the academia, civil society and other sectors. It is crucial to document these processes for experience sharing, and power and solidarity building.
Changes that are taking place in Chile are so widespread and structural that represent an enormous opportunity to inspire work in other countries in Latin America, as well as in other regions of the world. Chile's protests during 2019 triggered deep debates around the country's core public policies (particularly around health and pensions), and prompted innovative procedures to address those discussions in participatory manners. Notably, these debates concluded in the popular decision to draft a whole new constitution that would replace the Pinochet-era constitution currently in place.
In the spirit of cross-learning, last April the Global Initiative for Economic, Social and Cultural Rights, Fundación Avina and Ciudadanía Inteligente convened over twenty organizations from all over the region in Santiago to discuss democracy and human rights in times of transitions, under the motto of Reimagina LA (Reimagine Latin America). Discussions centered around fiscal policy, climate justice and public participation, and evidenced strong alignment among all organizations around the importance of allocating resources for ensuring human rights, and the connections between public finance and the much-needed transition to greener economies. As part of the convening, participating organizations, including CESR, managed to engage in the constitution making process by meeting representatives drafting the new Constitution, and to explore synergies in their agendas. A summary of the main conclusions of the event can be seen here.
As evidenced through our participation in such activities, one of the core concerns at the center of public discussions in Chile relates to the economic model to be reflected in the Constitution and the role of the State in securing human rights and providing public services (as opposed to the current model where the role of the State is "subsidiary" to the market). In consequence, debates around fiscal policy (the way in which States collect and allocate public resources) and its role in ensuring human rights and securing equality (among people and regions of the country) are commonplace in public discussions.
Debates on how to frame fiscal issues in the new constitution are currently paired with a proposal that the recently-elected government is developing to conduct a comprehensive tax reform, using a participatory approach based on "social dialogues". Some of the problems that Chile could address through these debates and reforms include:
Its low tax burden, which hampers its capacity to adequately fund human rights' for all.

Issues of tax avoidance and evasion, which divert much-needed resources to ensure high-quality public services.

Its extraordinary levels of inequality (both among people and households, but also among regions), which fiscal policy has a huge potential to tackle.

Its high dependence on resources coming from extractive industries.
These problems are not exclusive to Chile. On the contrary, they are seen worldwide, and often paired with other fiscal problems such as unfair tax incentives that largely benefit the rich, structural problems in the efficiency, equity and quality of public spending, and lack of transparency and participation in fiscal decision-making.
While the COVID-19 pandemic has made these problems more evident and severe, they are not new or unavoidable conditions about which nothing can be done. To the contrary, they are a matter of deliberate policy choices that can be changed.
In this context, CESR and other members of the Initiative for Human Rights Principles in Fiscal Policy met with the current undersecretary of Finance of Chile, Claudia Sanhueza, who is leading the tax reform process in that country. On top of sharing experiences of relevant processes in other countries of the region led or supported by our partners in the Initiative (such as the VAT exemption for menstrual hygiene products in Mexico or the new wealth tax directed at responding to COVID-19 in Argentina), we handed over a copy of our Principles for Human Rights in Fiscal Policy.
The Principles are a set of 15 standards produced by a group of experts and civil society organizations after a three-year participatory process that engaged several actors and gathered over 500 inputs. They provide guidelines to different stakeholders on how to align fiscal policies with human rights commitments, including to governments seeking to make structural tax reforms as Chile is doing now.
The Principles are an essential tool to create awareness on the duties that States must meet, to provide practical guidance on how to enhance fiscal policies from a human rights perspective, and to facilitate a common language and platform for action for movements, civil society organizations and governments with likewise goals, to foster cooperation at the regional and international levels. At CESR we invite you to use the Principles, and join related debates both on our social media and through the accounts of the Initiative for Human Rights Principles in Fiscal Policy.