Volume 24, Issue 9 of the International Journal of Human Rights is a special issue, co-edited by Aoife Nolan and Juan Pablo Bohoslavsky. It brings together experts working on human rights and economic policy from a range of disciplinary perspectives, including economics, law, and development studies. The contributions reflect a huge body of professional experience in the academic, policy-making, advocacy and practitioner fields and the articles address a wide range of different (legal, normative, economic, policy) frameworks and methodologies. The Guiding Principles on Human Rights Impact Assessments of Economic Reforms are the driving force behind the Special Issue and contributors engage with them in a range of different ways.
CESR's Allison Corkery, writing with Gilad Isaacs, interrogates the Guiding Principles' vision of a policymaking process based on sound empirical evidence, so that the proportionality and legitimacy of reforms can be 'properly' assessed. Implicit in this vision is that methodological tools from economics should be drawn on, and adapted, to project or assess human rights impact. Their article argues that biases inherent to these tools must be fully understood and addressed in order to meaningfully assess the human rights impacts of economic policy choices. First, it reviews relevant literature on human rights impact assessment, to give context to some of the methodological issues raised in the Guiding Principles. It then interrogates the claim that impact assessments can advance evidence-based policymaking, unpacking this idea with reference to a frame for advancing a more 'politically informed' approach to understanding evidentiary bias. Second, it explores bias in neoclassical economics. It does this by unpacking dominant styles of reasoning and policy devices, concluding that meaningful assessment of rights realization does not easily fit within this cognitive infrastructure. Finally, it outlines a number of strategies that would help advocates of human rights impact assessments to better navigate the politics of evidence and contest economic orthodoxies.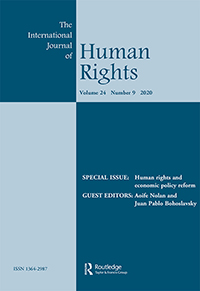 CESR's Sergio Chaparro, writing with Olivier De Schutter and Nicholas Lusiani, argues that who finances government, and how, is foundational to realizing human rights for all, without discrimination. This is especially pertinent during the COVID-19 pandemic, which is only exacerbating health and economic disparities. Their article reviews what a national human rights-aligned tax policy would look like, and then dissects how the international tax rules currently impede individual States, and particularly low- and middle-income countries, to bring their national tax policies in line with human rights. The authors then discuss how international human rights law, including the Guiding Principles, can provide a stronger normative foundation to curb harmful tax competition and help resolve disputes over the right to tax multinational companies. Given the paucity of practical tools to embed human rights norms into the process and substance of reforming international tax policies, the authors then develop a set of assessment questions to help operationalize human rights norms into current efforts to re-write the international tax rules.
The editors' opening article of the special issue, Human rights and economic policy reforms, is available open access. Manuscripts of the contributions from CESR are linked below: