New Zealand urged to focus on human rights and Te Tiriti in COVID-19 response

Guest blog by Paul Hunt, Chief Human Rights Commissioner for Aotearoa New Zealand

The Human Rights Commission is New Zealand's national human rights institution. Its purpose is to promote and protect the human rights of all people in Aotearoa New Zealand. The Commission works for a free, fair, safe and just New Zealand, where diversity is valued and human dignity and rights are respected.

What have been the main economic and social rights impacts of the pandemic the Commission has sought to address?

The pandemic was an unparalleled health and human rights emergency for Aotearoa New Zealand. The human rights issues were numerous, complex and profound, testing the government and society as a whole. For New Zealand, COVID-19 engaged Te Tiriti o Waitangi and our national and international human rights commitments. (Te Tiriti is the country's foundational agreement between Māori and the Crown in 1840.)

While we at the New Zealand Human Rights Commission warmly commended the New Zealand government for protecting the health and lives of so many tangata whenua (the indigenous people of New Zealand) and other New Zealanders, we pressed them repeatedly to ensure a human rights approach was central in their response to COVID-19.


COVID-19 severely strained the workers' and social rights of New Zealanders. It was an especially difficult time for older people, disabled people, those with underlying health problems, health professionals, tangata whenua and people living in poverty.
The economic crisis due to COVID-19 exacerbated underlying inequities in the country, making vulnerable workers, especially women, even more susceptible to discrimination and social rights breaches. The New Zealand government's decision to move to a lockdown through its Alert Level 4 system inevitably led to a crisis of unemployment. Early research found that 90% of the 11,000 New Zealanders who lost their jobs as a result of COVID-19 were women.
History tells us that tangata whenua have suffered the most severe and unequal impact of introduced diseases. When Spanish influenza reached New Zealand in 1918, Māori deaths were seven times higher than non-Māori, in part due to many Māori communities being left to fend for themselves. There were early indications that this would repeat as the government drew criticism for not focusing resources on tangata whenua.

A lack of access to personal protective equipment (PPE) emerged quickly as an issue. The Auditor-General later found there were mixed messages about PPE guidance, that some emergency plans were out of date, that there was a lack of integration between various parts of the health and disability system, and that District Health Boards did not have links to all providers. These issues had an impact on the right to health of New Zealanders, in particular those with existing vulnerabilities.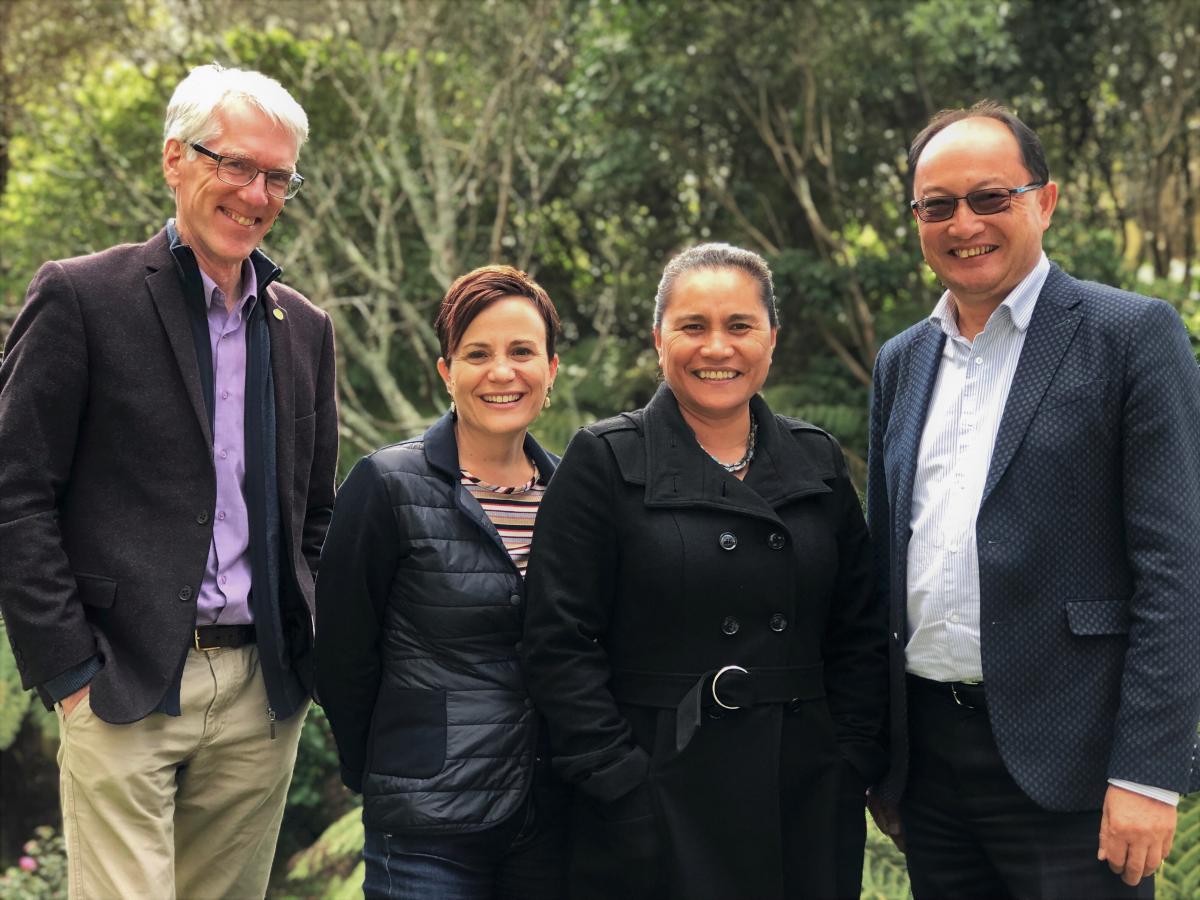 From left: Chief Commissioner Paul Hunt, Disability Rights Commissioner Paula Tesoriero, Equal Employment Opportunities Commissioner Saunoamaali'i Karanina Sumeo and Race Relations Commissioner Meng Foon
What are the priority policy responses you are advocating for in the context of the pandemic, particularly with regard to economic/budgetary/resource-related measures?
In general, the Commission responded by calling for human rights and Te Tiriti o Waitangi to be at the centre of the government's response. Te Tiriti O Waitangi is a 'living document' central to New Zealand's present and future. In Aotearoa New Zealand, human rights and Te Tiriti are seen as deeply connected. We therefore developed a framework for a Te Tiriti and human rights approach to COVID-19.
In this context, our response was guided by three essential roles articulated in a letter to New Zealanders at the beginning of the pandemic: advising the government, connecting with communities and holding decision-makers accountable.
We argued repeatedly that applying Te Tiriti and human rights to economic and social policies would bolster new and existing initiatives to protect the rights and needs of New Zealanders. Our letters to government, meetings with ministers, working groups, submissions and reports all reiterated this message.
In our
18-page report Human Rights and Te Tiriti o Waitangi: COVID-19 and Alert Level 4 in Aotearoa New Zealand
published in late April, we pushed for bold additions to the government's future budgets to fulfil the workers' and social rights of New Zealanders.
We called for the government to increase its COVID-19 welfare package, use its emergency budget response to implement recommendations made by an independent expert group to improve the social welfare system, and ensure people receiving benefits receive adequate income support to maintain an adequate standard of living.
We also pointed out that the pandemic gave us an opportunity to revalue low paid "essential" occupations, eliminate pay inequity by gender and ethnicity, alleviate poverty for single parent families, value unpaid work and enable flexible work.

To what extent has the Commission been able to influence the political agenda and the public debate on the need for fairer economic and social policies in the wake of the pandemic? What factors have helped or hindered that?

Over two dozen constructive letters were sent to the Prime Minister, Ministers, and officials coordinating the Government's response, and helped to put workers' and social rights on their radar.

A new influential Kaiwhakatara Accountability Advisory Group, made up of prominent human rights experts, helped to ensure a clear Te Tiriti and rights-based message was reaching the government.

Informal meetings with 'integrity agencies' (eg. Ombudsman and Children's Commissioner), the Ministry of Health, and the Minister of Justice helped to find solutions to important human rights issues.

Nearly a dozen public statements, with wide-spread media coverage emanating from all four Human Rights Commissioners from March to August, focused the public debate on human rights issues rising from the pandemic and the government's response.

All of these actions helped to influence policy and ensure human rights and Te Tiriti were on the government's agenda.

CESR has been working in partnership with National Human Rights Institutions around the world for several years, in particular to strengthen their ability to effectively monitor how resources are raised and deployed to realize economic and social rights. CESR worked with the New Zealand Commission to monitor rights in the aftermath of the devastating earthquakes in 2010 and 2011.
The Confronting COVID series profiles how our civil society partners in various countries are responding to the economic fallout of the COVID-19 pandemic, and the role that human rights norms, tools and strategies are playing in economic policy debates at the national level.