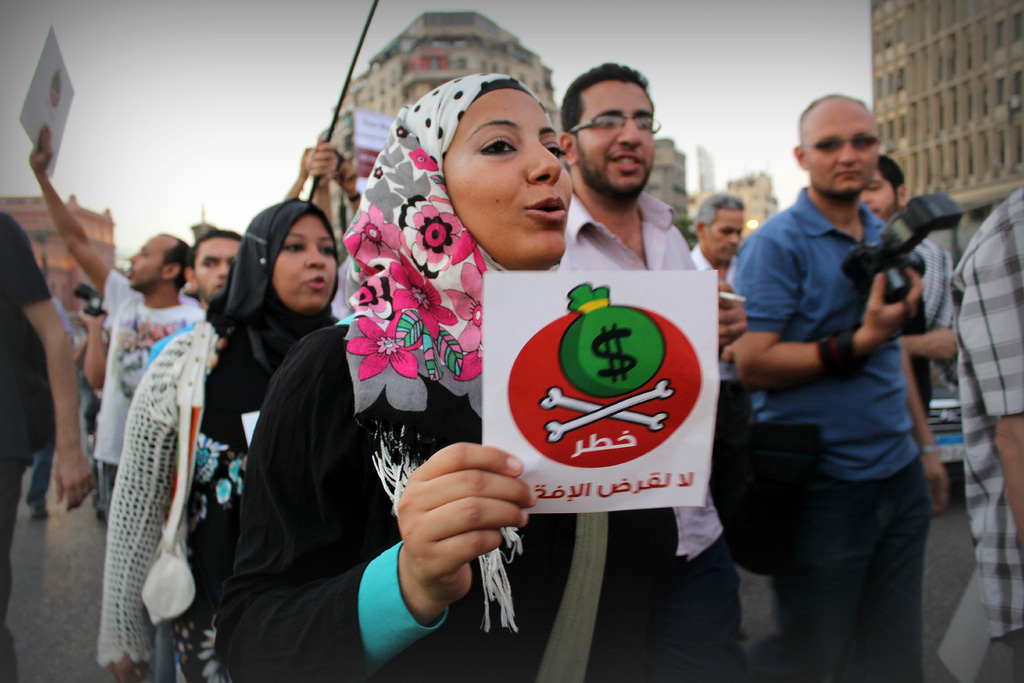 Momentous change swept through Egypt in 2011 following the popular uprising that prompted the resignation of President Hosni Mubarak. In the years since, the country has been mired in political instability and an acute financial crisis. The promise of a fairer and more just society has failed to materialize in many crucial respects.
The sustainability of Egypt's democratic transition depends on addressing the socioeconomic deprivations that were among the root causes of the revolution, yet economic policies, pushed by international financial institutions, have hindered the meaningful structural changes needed to eradicate entrenched patterns of poverty, economic inequality and social exclusion. To date, socioeconomic reforms in Egypt have focused on budget cuts, privatization and other austerity measures that risk undermining economic and social rights and further exacerbating inequalities. This reflects a common global trend of either ignoring or trading off demands for social justice and economic and social rights in the agenda of post-conflict or democratic transitions.
Since 2013, CESR has partnered with Egyptian civil society groups—including the Egyptian Center for Economic and Social Rights, the Egyptian Initiative for Personal Rights and others—to ensure the government's economic policies advance the rights of ordinary people. A key challenge has been that the experience of those being left behind by such policies is not being adequately captured, and so their damaging side effects are being overlooked by national authorities and international financial institutions—undermining the government's sustainable development aspirations as well as its economic and social rights obligations.
In response, we collaborated with partners to develop Egypt's Social Progress Indicators (ESPI), which was rolled out in May 2018. The 82 indicators that make up ESPI measure six topics: health; education; urbanization; food, water, and agricultural land; and economic policy; a cross-cutting gender analysis is incorporated throughout.  Each indicator is assigned a color score representing the degree of progress that has been achieved.  By benchmarking progress in this way, ESPI helps pinpoint and build momentum on those areas where improvement is most needed.  
The key role CESR played in the development of ESPI speaks to the uniqueness of our collaboration model, which is based on sustained engagement with national partners, sharing the research tools and advocacy expertise honed in different contexts in ways that enable them to address the economic and social rights challenges they see as most pressing.  One of the most distinctive aspects of ESPI is its methodology, which was designed collectively over three years, through a series of workshops that facilitated skill-sharing, resource development, and prototyping based on CESR's OPERA framework for economic and social rights monitoring. ESPI includes a mix of fact-based and analytical indicators, measured using quantitative and qualitative data, in order to give a holistic picture of social progress. It analyzes progress through the four dimensions of OPERA—Outcomes, Policy Efforts, Resources and Assessment—to illustrate the effects that laws, policies, and budgetary decisions have on people's everyday lives. 
The idea for ESPI was born in 2015, when partners expressed interest in translating broad recommendations to Egypt from international human rights mechanisms into measurable and actionable indicators that speak to and inform national priorities, particularly as they relate to the government's development agenda.
In November 2014, Egypt appeared before the Human Rights Council's Universal Periodic Review (UPR). CESR supported the coordination of a joint submission endorsed by 51 civil society groups and 79 labor unions examining continuing deprivations of economic and social rights in Egypt. CESR and its partners also produced a series of 11 short briefing papers that summarized key concerns and suggested recommendations. A number of Council members made recommendations related to these concerns, which Egypt committed to acting on.
The UPR session came one year after the United Nations Committee on Economic, Social and Cultural Rights reviewed Egypt's periodic report in November 2013. CESR worked closely with Egyptian civil society groups on a joint parallel report to the Committee, which documented soaring unemployment, escalating food prices, inadequate social security, and failing public services; an accompanying Visualizing Rights Factsheet provided a statistical snapshot of these trends.  The Committee concluded there had been "retrogression in the effective enjoyment of the rights enshrined in the Covenant, disproportionately impacting disadvantaged and marginalized individuals and groups."
The ESPI initiative is an innovative digital tool by which a range of actors can track progress in the implementation of commitments Egypt has made regarding economic and social rights and sustainable development, commitments reflected not only in these international recommendations but in its Constitution and national development plans.  As a methodologically rigorous, evidence-based and civil society led resource, it is intended to help foster more informed, accountable and participatory decision-making on social, economic and development policies and their impact on people's lives.