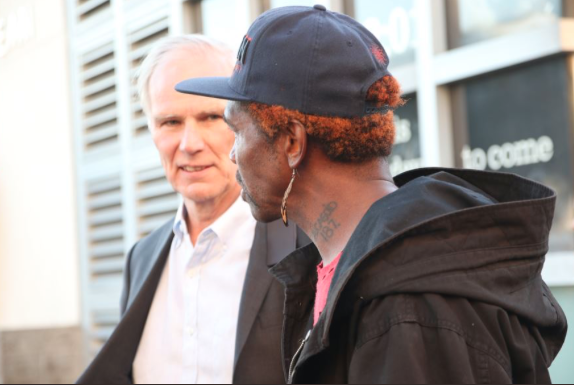 December 22, 2017
The UN Special Rapporteur on Extreme Poverty and Human Rights, Philip Alston, just wrapped up a fact-finding mission to one of the richest countries in the world: the USA.
His powerful initial findings (a final report will be available next year) should spur deep introspection from US policy-makers and government officials as to why 40 million people— or 1 in 7—still live in poverty in the world's largest economy. Instead, this week Congress passed a tax bill which will make the USA, in Alston's words, "the world champion of extreme inequality."
Indeed, the glaring injustices in the tax "reform" package were flagged as a central concern by the Special Rapporteur, after a submission made by CESR highlighted its likely devastating impacts on poverty, inequalities and human rights. In line with CESR's analysis, Alston lamented the "enormous impetus given to income and wealth inequality" by the measures. Meanwhile, as Congress passes tax cuts for corporations and millionaires, 9 million low-income children are at risk of losing their health insurance due to lack of funding.
The visit by Alston (a professor of law at NYU and the founding chair of CESR) highlights two of the most important elements of human rights: their universality and indivisibility. All people everywhere are entitled to their human rights and all types of human rights have equal status. But, as is shown in his graphic descriptions of black Alabamians living amongst open sewers, of poor Virginians with mouthfuls of rotting teeth unable to access dental care or of American children suffering from diseases like hookworm long considered eradicated in "developed" countries, chronic poverty and human rights deprivations exist in even the richest countries. The conditions are shocking and they are even more difficult to justify amongst so much abundance and wealth.
Exposure of the human rights failings of rich countries is even more important in the context of the 2030 Agenda for Sustainable Development, in which all countries have pledged to end poverty, ensure access to water and healthcare and reduce inequality. Indeed, countries like the USA have an even weightier responsibility because their influence is global, whether through norm setting, political pressure or the impact their policy choices have on other less wealthy countries.
The Special Rapporteur's report also clearly demonstrates how deprivations of economic and social rights (such as food, water, health, housing, sanitation, education) are inextricably linked to and inseparable from violations of the more commonly acknowledged civil and political rights. In particular, he highlights racial and economic discrimination inherent in the criminal justice system, structural denial of voting rights in areas with high concentrations of low-income African-Americans, dismissal of privacy rights of welfare claimants, and criminalization of homeless people for performing essential life functions (such as sleeping or urinating) in public, rather than addressing the underlying problem of housing rights.
As Alston writes, "in many cities and counties the criminal justice system is effectively a system for keeping the poor in poverty while generating revenue to fund not only the justice system but diverse other programs."
As the report highlights, successive US administrations have refused to recognize economic, social and cultural rights, and the USA is one of the few countries which have not ratified the International Covenant on these rights. In Alston's words, "the US is alone among developed countries in insisting that while human rights are of fundamental importance, they do not include rights that guard against dying of hunger, dying from a lack of access to affordable healthcare, or growing up in a context of total deprivation."
The policy changes being wrought by the current administration—slashing welfare services for the poor while offering generous tax cuts to the rich—are a further betrayal of the USA's human rights obligations that will exacerbate poverty and inequality. What's more, corporate tax cuts in the USA will likely spur similar measures in other countries, fuelling rising inequality worldwide and undermining the ability of low-income countries to invest in human rights.
In the USA, 2017 has been a demoralizing year for all who care about human rights and justice. The striking findings of the Special Rapporteur bring the scale of the challenge into even greater relief, reminding us of the power of shining a light on the deepest injustices, the policy choices that underlie them and the need for pushing for accountability everywhere we see such glaring disparities.
Related: