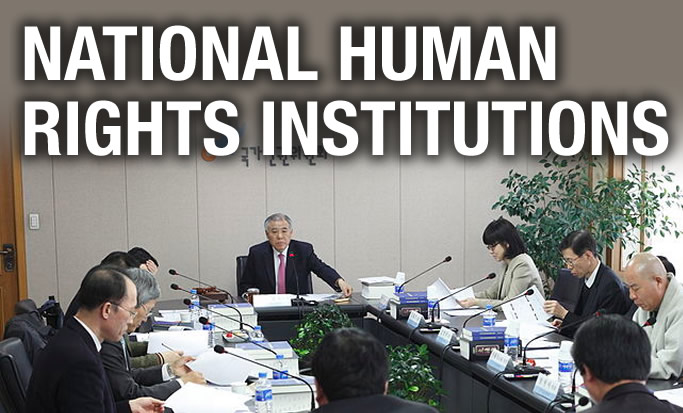 National human rights institutions (NHRIs)—defined generally as independent bodies, officially established by legislation or constitution with a specific mandate to protect and promote human rights—have a number of unique institutional characteristics that can make them effective monitors of economic and social rights:
NHRIs have a legally defined relationship with the state, which gives them authority to monitor compliance with international human rights norms;
NHRIs rely on a broader set of advocacy tools than the judiciary or civil society groups—as well as a quasi-judicial competence to receive complaints and scrutinize law and practice; they provide advice, assistance and capacity building to government;
Uniquely positioned between government, civil society and the UN human rights system, NHRIs can bring together various governmental and non-governmental actors;
As permanent institutions, NHRIs are able to track issues over extended periods to identify trends in the level of rights fulfillment.
Despite their potential, however, NHRIs have traditionally been less active in protecting and promoting economic and social rights than civil and political rights. Engaging in debates about how policies affect employment, health, housing, social security, and education requires knowledge of how these issues manifest in practice. Many NHRIs lack this requisite expertise, hampering their potential in relation to economic and social rights monitoring.

Identifying appropriate methodological approaches for NHRIs that can supplement their traditional fact-finding work—including building competency in community consultation; collecting and analyzing primary and secondary data; and interpreting economic, including budgetary, information—and prioritizing their implementation is therefore crucial.

The Center for Economic and Social Rights is committed to engaging NHRIs as key stakeholders in our efforts to empower and build the capacities of human rights accountability mechanisms to advocate more effectively for the fulfillment of economic, social and cultural rights. In partnership with the Asia Pacific Forum of National Institutions, CESR has recently completed a training manual for NHRIs on using new methodologies for monitoring economic, and social rights.

The goal of this work is to increase the number of NHRIs worldwide producing strong and methodologically sound reports on governments' obligation to fulfill their economic and social rights, and also to increase the number of governments acting on the recommendations of such reports. To achieve its objective, CESR is seeking to create opportunities for sharing experiences and mutual learning among NHRIs on monitoring economic and social rights and to support specific NHRIs in incorporating OPERA in their monitoring initiatives.